Gorgonado
---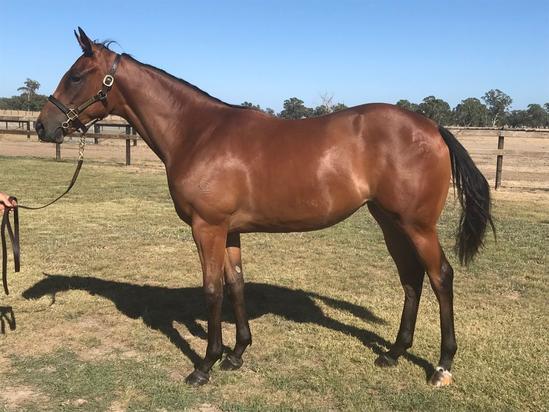 Sire: Toronado
Dam: The Gorgon
Colour: Bay
Gender: Filly
Age: 4 year old
Foaled: Aug 28th, 2017
Country: Australia
---
Owners
J Keech, P Baldwin, E Bartosh, A Carter, Benacre Thoroughbreds (Mgr: A Hart), G Howlett, N Reynolds, Ms J Stokes, P Richards, C Russell, R Thompson, P Wilson, Mrs T Wilson & Bonus Bet (Mgr: Ms T Frankland)
---
Career Record: 6-1-1-1
Prizemoney

$43,635.00

Wins

16.7 %

Place

33.3 %
---
Pedigree
BAY FILLY (AUS)

Foaled 28th August 2017

---

| | | | |
| --- | --- | --- | --- |
| Sire | High Chaparral | Sadler's Wells | Northern Dancer |
| TORONADO (IRE) | | Kasora | Darshaan |
| 2010 | Wana Doo | Grand Slam | Gone West |
| | | Wedding Gift | Always Fair |
| Dam | Street Cry | Machiavellian | Mr. Prospector |
| THE GORGON (AUS) | | Helen Street | Troy |
| 2006 | Centrestream | Centaine | Century |
| | | Millstream | English Harbour |

---

TORONADO (IRE) (Bay 2010-Stud GB 2015, Aust. 2015). 6 wins-3 at 2-to 1m, Royal Ascot Queen Anne S., Gr.1, Goodwood Sussex S., Gr.1. Out of a half-sister to SW Casamento. Sire of 105 rnrs, 47 wnrs, inc. SW Taos (Bordeaux-Le Bouscat Derby du Midi, L), SP Almufti, Revelstoke, Watan, Baylagan, El Ingrato, Stone Tornado, etc. His oldest Aust.-bred progeny are 2YOs and inc Heaven's Bonus, Prince of Sussex, Powertrain and of the placegetters Miss How Long, Mrs Whitten, Still a Star, etc.

1st dam

THE GORGON, by Street Cry. Winner at 1200m in Aust. Half-sister to Foxham. This is her fourth live foal. Dam of three foals to race, two winners, inc:-

Medusa's Son (g. by Fiorente). Winner at 1600m in 2018-19 in Aust.

Annie's Street (f. by Equiano). Winner at 1450m in 2018-19 in Aust.

2nd dam

CENTRESTREAM, by Centaine. 2 wins at 1500m, 1600m, 2d VRC Mick Robbins H., Melbourne Cup Club H., VATC Hedingham H. Three-quarter-sister to Wee Tipple (dam of WHO DARES WINS). Dam of 9 foals, 8 to race, 7 winners, inc:-

Foxham (Tale of the Cat). 6 wins from 1400m to 1800m, A$164,130, MRC Ken Sturt H., SAJC Cleanevent H., 2d SAJC Birthday Cup, L, MRC Planet Ruler H., SAJC Sloans Sands H., Pewsey Vale H., MRC Royal Charter H., 3d SAJC Port Adelaide Cup, L, 4th SAJC Tokyo City Cup, L.

Cezante. 5 wins from 1100m to 2200m, SAJC AH Davis H., 2d SAJC Smoke-Free H., Carbine Club Trophy H., Healthy Choices H.

Cendamy. 3 wins at 1000m, HKJC Suzhou H., Henan H., ING Unique Agency H., 2d HKJC Medicine Alumni H., Foshan H., 3d HKJC Australia H., Macwhinnie Cup H., Sichuan H.

Faslination. 8 wins to 1300m, A$108,485 in Aust.

The Anchorman. Winner at 1300m in Aust.

The Gorgon. Winner. See above.

Run for Royalty. Winner at 1600m in South Africa.

3rd dam

MILLSTREAM, by English Harbour. Winner at 1600m in NZ. Half-sister to Talk Talk, Zilezal, Fine Talk (dam of BRAVE LANCER). Dam of 7 named foals, 4 to race, 3 winners, inc:-

Fishguard. 3 wins from 1600m to 2000m in Aust.

Centrestream. 2 wins. See above.

4th dam

BABBLE, by King Canary. 5 wins to 1400m, WRC Burnham Welter H., 3d CJC Ferrymead H., Otago RC Prince Charles H. Half-sister to SHUDUP, Smack (dam of LINC THE LEOPARD). Dam of 10 foals, 9 to race, 7 winners, inc:-

Talk Talk (Lord Ballina). Joint third top filly on The 1991-92 NZ 2YO Free H. 2 wins-1 at 2-at 1200m, 1600m, ARC DB Sports Watch Welter H., 2d ARC NZ Derby Sweep Juvenile H., Regent of Auckland Mile S., Avondale JC DB Draught S., 3d Matamata Breeders' S., Gr.2, WRC NZ Magic Millions Classic S., Trax Tavern Final H., 4th Manawatu RC Eulogy S., Gr.3. Dam of-

Rumour Has it Now (Traditionally). 3 wins at 1400m, 1600m, 2d Manawatu Breeders' S., L, Manawatu RC Courtesy Ford H., 3d Feilding JC Anzac H., L, Rangitikei Gold Cup, L, Marton JC Evans Henderson Woodbridge H., WRC Coats Choice at Berkley Stud H., Marton JC Nufarm H., Bonny Glen H., Levin RC City Life Newspapers H., 4th WRC Cuddle S., Gr.3. Producer.

Zilezal (Lord Ballina). Placed, 2d VATC Thoroughbred Club S., Gr.3, Dalgety S., Gr.3, AJC Reginald Allen H., L. Dam of-

Zillionaire (Last Tycoon). 18 wins from 1000m to 1600m, A$136,330, 2d VATC Rancher H., L, 3d SAJC Axinite H.

Master Builder. 3 wins-1 at 2-from 1600m to 2100m, AJC Coogee Flying Welter H., 2d AJC John Oxley 2YO H., El Alamein H., 3d AJC Birrong Bowling & Sports Club H.

Fine Talk. Winner at 2, WRC Naenae Hotel 2YO H. Dam of-

BRAVE LANCER (Bahhare). 10 wins from 1600m to 2550m, NZ$3,125, A$378,455, STC Winter Cup, L, VRC Bart Cummings H., AJC Quasar Constructions Welter H., STC Blacktown Workers H., AJC Turf H., Wyong RC Magic Mile Quality H., 2d Geelong Cup, Gr.3, STC Sky High S., L, WJ McKell Cup, L, City Tattersalls Club Cup, L, 3d VRC Lavazza Long Black H., STC Navigate Financial Group Welter H.

Lady Bubbles. Winner at 1400m in NZ. Dam of-

Wee Tipple (Centaine). 3 wins to 1400m, WRC Bob Charles H., 2d Manawatu RC Flying H., L, WRC Dulux New Zealand Colour Map H. Dam of-

WHO DARES WINS (Iffraaj). 8 wins from 1600m to 2100m, NZ$250,963, to 2018-19, CJC Canterbury Gold Cup, Gr.3, Easter Cup, L, Gore Cup, CJC Cashmere Estate H., Christchurch Casino H., 2d CJC Canterbury Gold Cup, Gr.3, Otago RC No Limits Interiors H., CJC Hornby Working Men's Club Cup, Christchurch Casino H., Daphne Bannan Memorial H., Otago RC Harcourts H., CJC Pryde's Easifeed H., 3d Otago RC Dunedin Gold Cup, L, CJC Hororata Gold Cup.